HGH (human growth hormone) or somatotropin, is a vital chemical messenger found in every human being's body. While it is certainly necessary for children who naturally produce it in large quantities as they are growing, it is also an important part of health for all adults as well.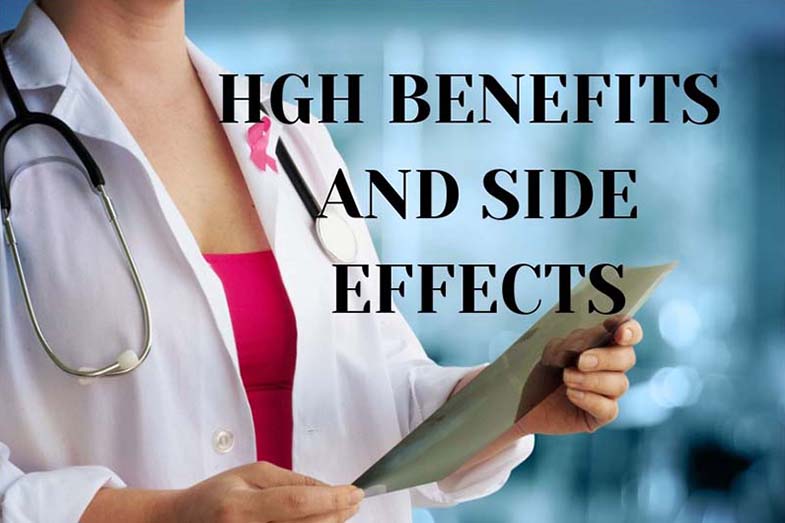 Not only does it make children grow taller, but also it can significantly improve cell growth and regeneration in adults. Although GH has only been studied for a paltry 100 or so years out of all of human history, this hormone has quickly proven to be a beneficial and occasionally even a controversial treatment.
What does HGH do to your body?
Human growth hormone produces anabolic effects on your body, meaning that it builds your body up rather than tearing it down as catabolic chemicals would do. Therefore, at its most basic, it helps produce new cells through protein synthesis as it works on certain cell receptors. It can stimulate the growth of nearly all of the human organs other than the brain.
In the human body, GH has a very short half-life of only a few minutes. Therefore, your body quickly metabolizes your naturally produced HGH. Some people can feel the effects beginning within a week of therapy.
However, everyone should be able to sense HGH effects after one month. By this time, you will feel some physical improvement, such as higher muscle endurance and strength and fewer symptoms of aging. These smaller changes tend to peak around six months.
HGH effects after six months will expand on this strengthening theme, and your body will be able to exercise more and even recover faster after injury or surgery. Many of your cells will be transformed, working better and smarter without having to expend as much energy as they once did.
You may be wondering if you can use HGH injections for six months to one year and rest on the great benefits of this therapy for the rest of your life. While your GH levels will continue to remain high during a short "off" period, eventually your GH levels will go back to what they normally would be for your age.
However, some people do take HGH breaks depending on what they are hoping to gain from the therapy. In addition, research is still not clear on what the effects of long-term HGH supplementation are.
Still, have questions about HGH and its effects? Just press the button below and get a confidential consultation with one of our medical experts about growth hormone therapy. 
The recombinant human growth hormone is the man-made option for replacing HGH in the body. While it works well for most people, some individuals do react to it as a foreign protein in the body. You will definitely want to check with your physician about which type of recombinant hormone is right for you because there are several options made by different manufacturers that are available today. Some of the most familiar options include the following:
Genotropin
Humatrope
Omnitrope
Norditropin
Zomacton
Saizen
HGH Benefits for Men
While HGH offers numerous benefits for adults of both genders, you will quickly find some specific benefits of HGH therapy for males. Most important to many men is HGH's ability to improve erectile dysfunction. One study showed that growth hormone increased dramatically during arousal, proving that it is a necessary hormone for complete sexual health. It could possibly help some men overcome impotence.
In HIV-infected men, HGH therapy helps with fat distribution and decreases the breakdown of bone. HGH both builds up bone and muscle tissue while also helping to decrease obesity, a common problem around the midsection for many men.
HGH Benefits for Women
Of course, there are also many benefits of HGH therapy for women. Aging can swiftly change a woman's body with menopause bringing a breakdown of bone, decreases in muscular strength, and poor sleep for many. However, growth hormone builds up bones and muscles, making this therapy particularly important for osteoporotic women. In addition, one study showed that individuals who were sleep-deprived had growth hormone deficiency, proving that HGH may help improve the quality of sleep.
HGH benefits for seniors
Besides these obvious benefits, adults of both genders can enjoy many positive HGH effects when they take it appropriately under the direct supervision of a licensed and knowledgeable medical professional. It improves collagen creation in the body and increases endurance during exercise and daily tasks.
Notably, HGH treatment can also improve lipolysis, which is the breakdown of fat cells. A study showed that HGH treatment over a 12-week period especially helped patients lose a high amount of visceral fat, which can be the most dangerous kind of fat in the body and the most difficult to lose with exercising and dieting alone.
Benefits for seniors are also extensive because many seniors deal with cellular breakdown throughout the body as well as with decreased muscular endurance. It may also be able to help seniors in the following ways.
Decreases hair loss
Improves memory and concentration
Decreases cholesterol levels
Improves skin tone and texture
Decreases fatigue
Reduces anxiety and depression
Ways to increase HGH levels naturally
Now that you know how much proper levels of HGH can help you as an adult, you will want to know how to stimulate growth hormone release yourself. Some options are completely safe and natural for most adults.
For example, high-intensity exercises increase growth hormone secretion. High-intensity interval training, or a HIIT workout, is particularly good as long as you maintain the high intensity for a minimum of 10 minutes. In addition, taking such natural supplements as vitamin C, A-GPC, L-glutamine or L-arginine can also help.
However, adult growth hormone deficiency, which may show itself through dry skin, fatigue, memory loss, and decreased bone sensitivity, may require more intensive HGH treatments, such as you will only find from a licensed medical practitioner.
Although many companies today advertise their HGH supplements, which are often in oral pill form, prescription HGH injections are the only ones that have been proven to work safely and efficiently.
Knowing what stimulates the release of growth hormone is important if you want to live a healthy and full life. Of course, before starting any new exercise regimen, natural supplement or diet, be sure to check with your physician or a dietitian to make sure that your choices fit in with your current level of health.
What are the side effects of HGH therapy
As can happen with nearly any treatment, side effects of growth hormone therapy do exist and should be monitored with the help of your physician. Early side effects of HGH could include headaches, nausea and vomiting, muscle pain, and joint stiffness. As your body becomes more used to the hormone, side effects should level out and decrease.
However, with long-term use, you may notice more intense changes to your body. For example, your skin may thicken and could even become coarse. As GH effects lead to cellular growth, you may see your fingers and toes thicken.
Over time, carpal tunnel syndrome can become a problem. HGH side effects in women could also include unwanted muscle bulkiness, bloating and a higher risk of cancer. Specific HGH side effects in men may include gynecomastia, which is enlarged breasts.
Very high quantities of growth hormone can lead to HGH uses and abuses that were never intended to occur. Sadly, some athletes choose to abuse HGH to gain larger muscles and more endurance for their sports.
Using GH for non-indicated problems is not only a wasteful drug but also is quite risky
Human growth hormone can certainly be quite helpful for adult men and women who are looking for a healthful way to improve bone and muscle strength. Plus, other smaller benefits that come along with it, such as improved sleep and mental function, can give adults a great quality of life even as they age.
However, HGH therapy should only be used under the direct supervision of a qualified and licensed medical provider because the risk of GH overuse or abuse is so high. By working closely with your provider, you both will be able to keep an eye on possible side effects and adjust your dosage as necessary.